New Zealand police vehicles including cars, utes, motorbikes and vans, use either yellow and blue Battenberg markings or standard unmarked factory colours. There are still some remnant orange and blue vehicles but these are being phased out.
Cars have the Battenberg markings on the rear half of the side panels with vertical lines either side and on the front and back.
Motorbikes have Battenburg markings on the front fairing and panniers.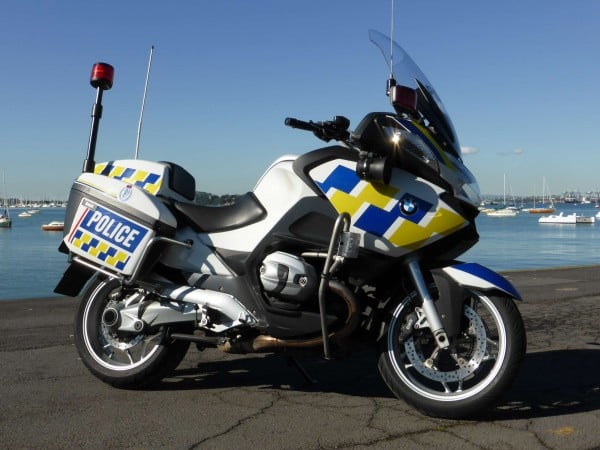 What are Battenberg markings?
Developed in the mid-1990s by the Police Scientific Development Branch (now the Home Office Centre for Applied Science and Technology) in the UK, the pattern is designed to give maximum visibility at 500 metres, instantly identifying them as police vehicles.
The pattern is a regular design of contrasting light and dark panels with the lighter colour being a dayglo or fluorescent colour for better visibility at dusk and dawn.
While traditional Battenberg design mimics the Battenberg cake, New Zealand's police livery is slightly modified in that the colours overlap and are in two distinct offset horizontal lines rather than the chequered effect. While in the UK the Battenberg design aims to have a bright colour at either end of the vehicle on the top row, New Zealand's design doesn't, instead opting for thicker full height vertical lines at either end for four-wheeled vehicles.
On the front and rear, New Zealand's design continues the strong vertical lines.
Unmarked police vehicles
Unmarked police vehicles can be any factory colour. They tend to be the lowest specification vehicles and are often sporting steel wheels as opposed to alloy wheels. While many are Holden Commodores, police do have other models, and vehicles for unmarked cameras including Hyundai iLoad and Toyota Previa (shown below)