To help drivers see where a road is going ahead, both in the day and at night, roads are often installed with markers on the left and right verges, road studs (also called cat's eyes or reflective raised pavement markers), and markers on bridge parapets.
Road markers or Edge Marker Posts (EMPs)
On the left of the road the Edge Marker Posts are a white post with two red strips and a white reflector, and on the right of the road you see the back of this marker which has a solid red band with a yellow reflector. You can see this in the image below of the Thames Coast Road. In the dark, there is no lighting on this road and there are plenty of corners, so the road markers help define the road's direction ahead.
The markers themselves are plastic, flexible, high-gloss white strips that are designed to be durable enough to last 10 years. Because they are flexible they present a minimal hazard if they're hit by a vehicle. The red band is designed to be fade-resistant.
The retroreflective strips in either white or yellow are applied with adhesive. The post itself is between 90-110mm and when they are inserted into the ground they are at least 800mm tall. They can be inserted into the ground, or attached via a clamp to another mount on the ground if the ground isn't penetrable.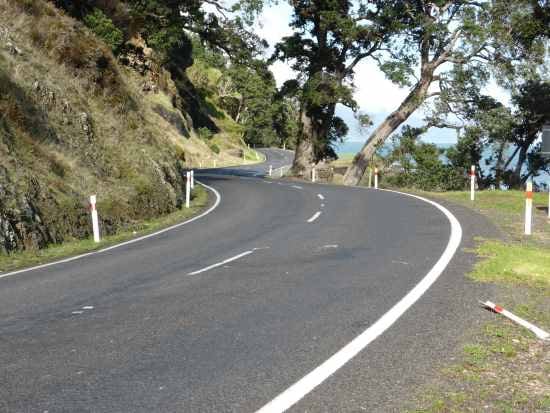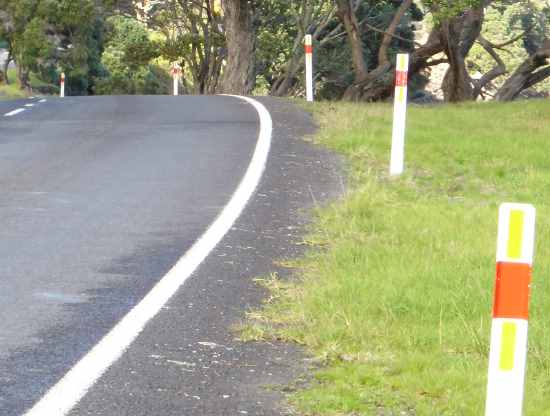 The markers are designed to be run over at least 10 times and return to their upright position without losing the red band or the reflective material.