Drive 1
I decided I should take action on my desire to become a member of the Institute of Advanced Motorists. Driving instructor Carl Winter who works at St John's Driving Academy in Whangarei suggested it to me and I had my initial observation drive with IAM Chief Examiner Morne de Lange of A1 Driving School last Friday (28th).
This first drive was fairly casual with Morne taking me on a route from Manukau out around Clevedon and Maraetai and back into Manukau, perhaps 60km. By the time you've been driving 22 years (as I have), you've picked up a good raft of bad habits, so I'd been trying over the previous few weeks to rid myself of them; things like driving with my elbow on the door, tailgating, speeding, and poor lane choice.
Also, I did a lot of motor racing in the past, so my line around the corners is always the racing line, often using a little bit of trailing brake (this is where you are still very slightly braking while you start turning). The racing line straightens out the curve as much as possible and is the most comfortable way through the corner with the least amount of wear on the car. However, it's not the safest way because of the 'vanishing point' of the curve, which I will explain in a future post. To have to change my cornering line slightly to what is, in effect, a very late apex, was (and probably will be for at least a few weeks) difficult.
My other noted foibles were not indicating when two lanes merged, not checking over my shoulder when moving into a flush median, and not looking far enough ahead when doing a commentary drive. A commentary drive is where you describe what's going on ahead of you on the road while having to drive – brain overload when you first start doing it.
Overall, I acquitted myself reasonably well, but I'm by no means anywhere near becoming an IAM member yet. I'm hoping to have this process finished by June, and I'll update you here as I have other observation drives with Morne.
Now I'm going to buy Roadcraft (you can get it here on Amazon), which is the IAM manual, as used by the UK police.
If you are interested in becoming a member of the IAM, visit their site here.
Drive 2
I had my second observation drive with IAM NZ Chief Examiner Morne de Lange on 7 May, starting in the urban streets of Manukau, Auckland and heading out to the rural areas around Clevedon. My first observation drive was back in March so it was time to try out the skills I'd been practising and learn some new ones. In the weeks since the first time, I had read the Police drivers' handbook Roadcraft (you can get the Kindle version here from Amazon).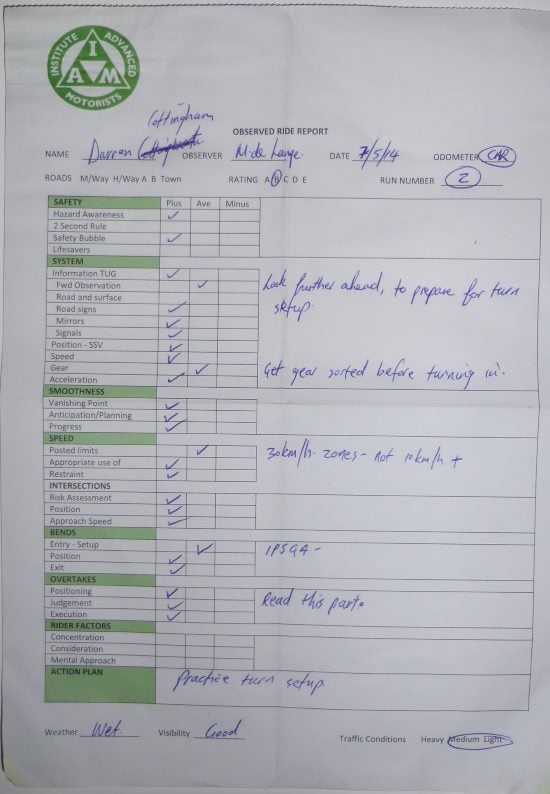 One complicating factor is that I also review new cars for fun. That means I get a new car every week which makes it almost impossible to make some habits stick. The car I did the observation drive was a 2014 Subaru WRX with paddle-shift CVT gearbox. You can barely hear the engine (despite there being four exhausts), there's no option to use the actual gearstick for changing gears, and I had only driven it 30km before starting the observation drive, having collected it the afternoon before. The car I picked up a week later (which I have while writing this) is a 2014 Toyota Hilux SR5 automatic with no sequential manual option and an annoying dog-leg gate for gears L, D2, D3, D4 and D. It makes driving not fun having to deal with that specific gearbox, therefore I'm not using the gears, instead opting to practice corner setup and commentary. I'll go back to using the gears when I get the next car (a Kia Optima)
Other changes that make it difficult are traditional handbrake levers versus the more and more popular buttons, and there are the weekly changes in the position of the windscreen wipers versus indicators.
The car booked for my next drive in a few weeks is an Audi A3, so we'll see whether that has any idiosyncrasies. However, the Subaru was excellent once I got used to it – fast, plenty of torque, and excellent handling.
Having really worked on removing my habit of using the racing line, we focused on getting into the right gear and scrubbing off enough speed before the corner. I don't have the entry position perfect yet, and throwing the sequential gearbox and a brand new car into the mix meant my general observation suffered as I had to keep looking at the gear indicator on the dashboard until I got used to how much deceleration a specific gear would 'feel' like at any speed.
My other problem was sticking to 30kph in roadworks zones. In a WRX 30kph feels like you could walk faster, and in one or two I know I was doing around 40kph.
The overall result was a grade B, which I was happy about, with Morne suggesting that if I get the problem areas sorted on the next run then I could go for the membership test. Although, next time we're chucking commentary into the mix, just to make it more challenging.
To recap, my problem areas are still:
Not looking far enough ahead
Not always in the right gear (hopefully this was just because of my unfamiliarity with the car, however, I also feel that the WRX's performance capabilities probably masked some of my issues with gear selection…it might be worse than I think.)
Not getting the entry to the corner right 100% of the time (predominantly trailing brake because I hadn't scrubbed off enough speed)
Speeding (only in roadworks areas – again, perhaps partially because of lack of familiarity with the WRX. I found myself having to check the speedo frequently due to its ability to pick up speed like someone had positioned a giant magnet ahead of it).
What else I have to practice:
Commentary drive
Read the section about overtaking again in Roadcraft – this was mainly in response to me questioning Morne about what road position to adopt in specific overtaking circumstances.
Drive 3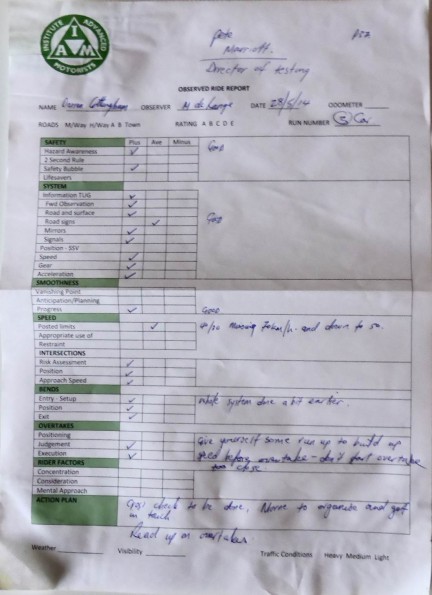 The third observation drive was a month ago now, west of Auckland, starting at Westgate and heading around Kumeu and Waimauku. It was a bright sunny day. I hadn't driven on many of the roads, plus, I was in a brand new car that I'd just picked up the previous afternoon to write a review about: an Audi S3. My total kilometres in the S3 was 20 when we started the drive, and that's hardly enough time to get used to the cornering characteristics, particularly when 18 of those kilometres were on the motorway from the city centre.
The S3 is rapid: 4.9 seconds to 100kph. It also has an extremely harsh downshift which would be OK if I was late braking into the carousel at Nurburgring, but not in on most of the rural roads we encountered, and definitely not while you're doing 50kph through a village.
Consequently, the drive didn't feel that smooth using the paddles, even when set to Comfort mode.
What's changed in my driving since the last time
The biggest change I've noticed is my natural cornering line. Before doing this IAM observation drives, my motor racing history meant I touched the apex on the corners, which is the smoothest way to drive, but you can't see around the bend as far.
Now, I feel that I can't see enough if I'm hitting the apex in a blind corner. I'm naturally staying out wider for longer. This took me about a month until my brain was reprogrammed, but it seems to have stuck.
My faults
In general, I had made improvements, but had a few minor faults:
Missing a 70kph sign (I stayed at 50kph)
Speed creeping up to 40kph in a 30kph zone – the Audi has 221kW and you only have to imagine pressing the throttle and it picks up speed
Relying too much on the S3's power when overtaking rather than anticipating the overtaking move properly.
The good news is that I can now have a cross-check which will be done by Pete Marriott who is the Director of Testing for the IAM in New Zealand.
If I pass that, then I'll take the test.
Drive 4
A couple of weeks ago I had my fourth observation drive which was a cross-check with Pete Marriott who is the Director of Tests in New Zealand. Pete is an experienced police instructor with a category 1 rating in the UK.
I had just picked up a Kia Soul for the week to review. The Kia has a six-speed automatic gearbox with sequential mode. The main problem is that it doesn't show you what gear you are in, it shows you what gear you should be in to drive economically (accompanied by a green arrow pointing up). For example, you change down because you see traffic ahead looking like it might get squiffy, but the gear indicator just changes colour, not number. It's entirely possible to be in third and the gear indicator to say '6'. Needless to say, I was always in a gear that was too low, but unsure of which one at times.
Other than that, the Soul is comfortable enough.
It was an extended drive from Ellerslie down to Highbrook and out through Clevedon and Maraetai in occasional thunder and squally showers. There are a lot of roadworks out that way and a good mix of motorway, urban and winding rural.
A few things I still needed to be aware of:
You should park behind the vehicle in front leaving yourself enough room to swing out on full lock if the vehicle breaks down. The usual way of judging this is to make sure you can see the wheels of the vehicle in front. Because the Soul is quite tall, I would have had to have parked way further back than was actually needed to achieve this. I was actually parking a little too close, though, so pulled back a bit.
Still a little bit of trailing brake into the corners occasionally. I had jumped out of a hot hatch with excellent handling into the Kia with relatively sloppy handling, so it was more to do with my comfort level rather than the ultimate ability of the car.
Pete said that if it was the actual test I would have passed, which is great. So I'm looking forward to taking the actual test and becoming a member of the IAM.
First test
To cut a long story short, we took a way longer route than the examiner intended – well over 200km. We were 8km from the end and I missed a stop sign that was hidden in the foliage a bit, so it was an instant fail. I had gone over the speed limit a couple of times, too, but the examiner had overlooked that because they were mainly early acceleration when the speed limit was going from a 50km/h to an 80km/h and we were running a bit late because of the longer route.
Final test
It was still around 200km and this time in a Toyota Yaris automatic! Fortunately, I passed.