Upskill and improve your chances of employment with a forklift licence. There are two options when you are learning to drive a forklift:
Operator's certificate (previously the OSH certificate)
F endorsement
First step to getting a forklift operator's certificate
Your first step is to get access to the theory so you can learn the safe practices required in the Approve Code of Practice.  This is all covered in our forklift course. Practice and make sure you're getting 100% before you go and do the practical assessment and it'll improve your chances of meeting the requirements and passing the first time.
Here's the overview video for the course.
Second step to getting a forklift operator's certificate
You need to find an approved forklift instructor who can cover off the practical side of driving a forklift. An approved forklift instructor will cover:
Stacking and destacking – using the forklift to load and unload a goods service vehicle
Safe refuelling
Safe handling and operation of the forklift
Pre-vehicle safety checks
Parking and storage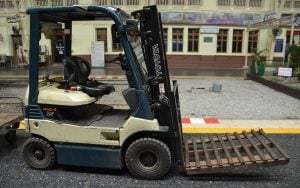 An operator's licence means you can drive a forklift truck in a closed yard with no public access, or a warehouse. It's valid for three years. If you want to drive a forklift on the road in a company car park, an internal road, driveway or footpath then you need an F endorsement (although, it's likely the F endorsement will be eliminated in the near future).
It's not necessary to do NZQA unit standards, but if you want to they are 10851 (operate a powered industrial lift truck fitted with forks [forklift]), 10852 (operate a powered industrial lift truck fitted with attachments on a worksite – attachments are hydraulic), 18409 (use a forklift-mounted safety platform in the workplace) and 18496 (demonstrate knowledge and skills for driving a forklift on a road – F endorsement).
You don't need to have a full class 1 car licence for 10851 or 10852, but you must have a full car licence for 18496 for forklifts up to 18,000kg, and a full class 2 heavy vehicle licence for driving a forklift of more than 18,000kg. More information on licence requirements is available here.
To get your F endorsement on your licence you will need to provide a certificate to NZTA showing that you've successfully completed an approved course. You must wait until you receive your licence back with your endorsement before you can use a forklift on the road. You will need to fill out an application form, present evidence of your identity, prove your eyesight meets the required standard, provide a medical certificate, pay the application fee and present your certificate. Forms can be downloaded here.
How to choose a forklift instructor
How much experience do you have? If you have never driven a forklift then you will need to take a beginner course. These usually take 1-2 days. If you have some experience then you can take a shorter course that usually lasts between 4-8 hours. Check with the instructor what they recommend.
Do you need the instructor to come to your workplace, or will you go to a training centre? Some instructors offer both options, some offer only one option.
Do you need your forklift instructor to conduct a health and safety audit? Forklift instructors frequently offer workplaces health and safety audits you can take advantage of.
Do you need any specialised forklift training? Specialised forklift training can be supplied if you already have an F endorsement, but have obtained a new type of forklift with unfamiliar attachments.
Do you need a multi-lingual instructor? Some instructors speak languages other than English.
Do you just need a refresher course? If you've had a forklift licence which has expired within the last 3 months you can take a refresher course and renew it.
Is the vehicle you want to drive actually a forklift? There are some other vehicles like reach stackers (shown in the image) which you will need a forklift licence for. However, some vehicles might come under wheels, rollers and tracks licence endorsements. Check with an instructor.
How do you find an instructor? You can find driving instructors that offer forklift courses by looking in our driving instructor directory. Instructors commonly combine 10851 and 18496 into a bundle that is cheaper than doing the two separately.
How to get your forklift licence
If you want to get a forklift licence, here are the steps to take:
Decide whether you need the F endorsement or just the workplace forklift operator's licence (remember you'll need a class 1 or class 2 licence depending on the weight of the forklift you want to drive)
Find an instructor using our driving instructor directory and book a date.
Practice the theory in our training section before you get there as this will give you a mmuch-improvedchance of passing first time. It's only $9 to access it for a year, and you get bonus access to the rollers, tracks and wheels modules.