Maybe you got 100% more baby than you bargained for. Maybe 200%. With any new child, you're most likely going to have to say goodbye to your dreams of owning a two-seater sports car (at least, temporarily), but with two or three children, the choices of vehicle are diminished quite substantially due to the sheer amount of stuff required to service these kids in a modern world.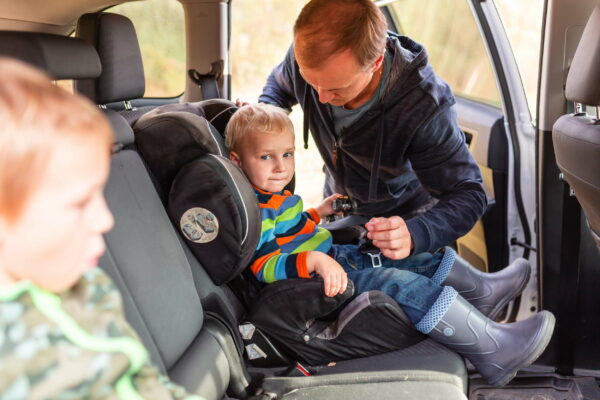 Yes, you are looking for something sensible because you can no longer shove extra kids in the boot like you wood in the Kingswood station wagon, or cram them along the vinyl bench seat in that back that had no seatbelts, or even carry them on your lap. No, all those things are frowned upon in the modern era and you will need to carefully consider the practicalities and legalities of carrying children in a car seat or booster seat.
How much storage?
Try getting a regular single Mountain Buggy in a VW Golf. It's tight – you can't fit much else in. Now think about the double version of that! It's necessary to scale back your stroller ambitions to something that doesn't have the off-road capacity of a Humvee, unless you're prepared to buy a vehicle of sufficient size.
When picking a car, don't even consider the urban favourite, a Suzuki Swift. A small hatchback will leave you wanting for more unless you purchase a cheap, folding stroller with smaller wheels. You can't use the rear seats to carry anything because they will be occupied by at least two baby capsules or seats. And if you've had three at the same time, you might have to move to a vehicle with three rows.
Medium-sized hatchbacks, like the aforementioned Golf, and the Toyota Corolla are the bare minimum for twins. Even better if you can go to a large hatchback (e.g. Audi A5, Ford Mondeo), or a medium or large station wagon (e.g. Skoda Octavia, Subaru Levorg, BMW 5 Series), a medium or large SUV (e.g. Hyundai Santa Fe, Mazda CX-5, Mitsubishi Outlander or Toyota Land Cruiser) or (horror of horrors) a minivan…of which we shall not sully this page by mentioning names.
Small SUVs are the same size as medium-sized hatchbacks. These are vehicles like the Mazda CX-3, Toyota C-HR and the VW Tiguan.
Most manufacturers have a range of vehicles catering for different family sizes and requirements.
What cars should you avoid in terms of storage? Utes are impractical for young families. Firstly, everything you want has to go in the tray where it slides around and is difficult to reach. The seat position often isn't great for child seats, and if you are a short woman, reaching into the ute to sort out the child in the seat can be challenging. Saloon/sedan models can have a large boot (e.g. Toyota Camry has 524 litres), but the versatility of a hatchback with its larger boot aperture wins out.
Basically, you should look for something with a boot volume of 500 litres or more as a starter for carrying twins.
Budget
It's likely your income will drop, you'll have a few things to buy (car seats, for example), and perhaps this is an extra car because you either survived without one or you need a second one, therefore there'll be insurance, servicing and registration costs. Are there options for servicing in your local area?
Safety
Any new car is going to be an order of magnitude safer than something 10-15 years old. Larger cars are safer in a crash than smaller cars, but also tend to have worse handling and braking, worse visibility when parking, use more fuel, cost more to insure, and are more expensive to service. Choose a car with a five-star ANCAP crash test rating and bear in mind that five-stars from a 2013 model is way, way worse than five stars from a 2023 model.
Look for a vehicle with a reversing camera, blind spot monitoring, forward collision warning and other safety features that can help as a backup if you are distracted by a screaming child.
For ease of fitting a car seat, will you need ISOFIX points (hint: if you have a capsule with a detachable base, you don't need them).
Fuel economy
In general, the bigger or more powerful the engine, the worse the fuel economy, although there is some variation. Hybrids and electric vehicles can be cheaper to operate, but are more expensive initially. The biggest factor affecting your fuel economy is your driving style, though.
Servicing and parts
Some vehicles have parts and servicing that is more expensive. Ask around your local mechanics to see which ones they recommend as reliable vehicles that don't have a sting in the tail when you need consumable parts. Every car will need to be serviced at preset intervals; some are sooner than others.
Features
Some vehicles have features that are very useful for keeping passengers comfortable and occupied. Multi-zone air conditioning helps keep the rear at a good temperature. Most vehicles have plenty of cup holders nowadays. Some vehicles have built-in tray tables behind the front seats, or have screens in the rear of the headrests or a fold-down screen from the roof.
Look for a vehicle with four doors, not two. Some vehicles have doors that open extra wide, which is particularly helpful when getting children in and out of the rear.
A vehicle with a cargo barrier between the boot space and the rear passenger compartment gives you more flexibility when carrying items.
Your new family activities
What will your future activities include? Many families with children start going camping rather than taking expensive overseas holidays. You may need to tow a trailer if one of your children wants a horse or a dinghy, or you may need a roof rack or rear rack for bikes. These should influence your choice of vehicle.