Accidents
Around 30% of all accidents involve drivers driving for work; this increases to more than 50% if you count people driving to and from work.
Tailgating is the second most common cause of accidents in New Zealand
A study by the Department of Labour found that on average one in four work vehicles was involved in some kind of accident each year and in 2015 the Ministry of Transport estimated that each work-related vehicle injury accident costs a company $15,300.
Vehicle-related fatalities make up at least a third of all fatal workplace injuries in New Zealand according to NZTA and ACC, but it's likely to be more as we don't monitor the purpose of vehicle journeys, so this only includes obvious accidents such as ATV rollovers on farms; Worksafe's list of fatalities from May 2016 to April 2017 shows over 40% are vehicle-related. From the transport statistics, around 20% of fatalities on the roads involve trucks. Safe Work Australia, which develops health and safety policy and monitors results in Australia, says that around 60% of workplace fatalities are vehicle-related.
Vehicle statistics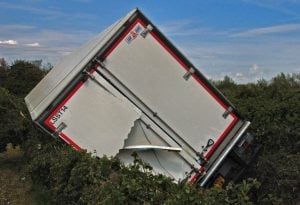 There are more than 600,000 commercial vehicles in New Zealand (heavy vehicles, vans and buses), plus 15% of cars are used for work – that means a lot of drivers are on the road every day driving for work.
The average driver who drives for work does three times as many kilometres per year as a driver that doesn't drive for work (30,000 vs 10,000).
In the UK around 27% of all trips are driving as part of work, and 26% is driving to and from work; we don't have New Zealand figures, but would imagine they align.
Around half of all vehicles sold new in New Zealand start their life on a commercial fleet. Many get sold into private ownership later, therefore the safer the commercial fleet becomes, the safer the private fleet becomes.
Insurance
In 2008, the Insurance Council of New Zealand reported that companies claimed over $400,000,000 for commercial vehicle crashes in just one year.
Reducing your chance of becoming a statistic
Use DT Driver Training to educate your drivers about safe driving. The training materials are accessible, informative and broken down into convenient modules which can be taken when convenient and repeated as many times as is necessary.
Find out more about the training by clicking here.