When you're choosing a truck loader crane you have a choice of a telescopic boom crane or a knuckle boom crane. Telescopic boom cranes (also called straight boom cranes) have a cable and hook attached to a winch, while the boom can only extend, not bend. The number of extendable parts are referred to as stages. For example, a four-stage crane will have the main boom and three extensions.
A knuckle boom crane (also called a folding crane, loader crane or articulating crane) has a hook attached to the end of the final boom segment. Knuckle boom cranes can have a winch, but it's less common.
The final boom segment on a knuckle boom crane will have one or more stages.
There are relative advantages and disadvantages to each model.
Telescopic boom crane advantages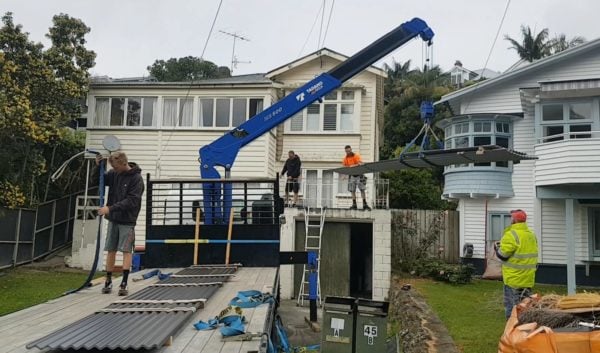 Telescopic boom cranes can more easily reach over a wall or obstacle and lower the item into place. A knuckle boom crane's boom could potentially hit the wall as it tries to lower the load, whereas a fixed boom crane simply lowers the winch and the hook will descend to the ground.
Telescopic boom cranes tend to be slightly more robust as the key components and hydraulic lines are mostly contained within the boom, so less likely to be subject to damage.
Telescopic boom cranes are easier to operate. They are more predictable in their trajectory, i.e. where they are going to go.
Some telescopic boom cranes can continuously rotate 360 degrees, whereas knuckle boom cranes have a fixed rotation that's only slightly more than 360 degrees.
Telescopic boom cranes lower the load vertically which makes it much easier to place a load accurately in amongst other loads, or next to another object.
Telescopic boom cranes are easier to use when placing fragile equipment as the winch enables the load to be placed with more care.
Loads can be suspended at height for extended periods of time using the winch, as it is the primary lifting mechanism; knuckle boom cranes are not designed for this.
Telescopic boom cranes tend to have less wear as the operation of them is simpler. When moving a load with a knuckle boom crane, the crane will have to be articulated as well as extended, whereas a telescopic boom's primary lifting mechanism is via the winch.
When picking up slung load with a telescopic boom crane, it's easier to lift it directly up as opposed to slightly in one direction which can cause the load to bang against an adjacent object.
Both types of crane should have a remote control if the crane is new.
Knuckle boom advantages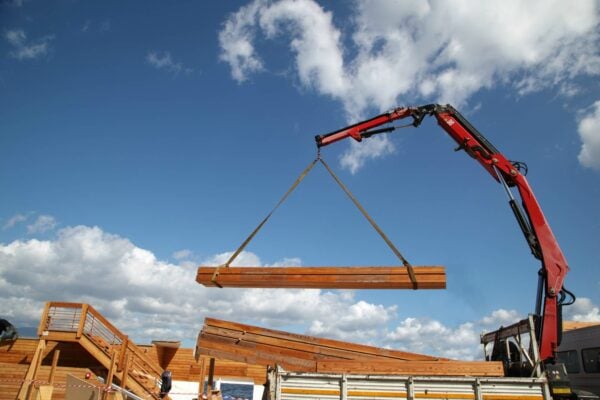 Knuckle boom cranes fold and use a small space either immediately behind the cab or immediately behind the loading deck. This allows for much more space for loading on the deck of the truck – they are far more versatile when carrying a load to a job site. A telescopic boom crane is partially stowed over the loading area, limiting the height of goods that can be carried in that place.
Knuckle boom cranes are better at moving loads point-to-point, into awkward locations (e.g. through a window) and over long distances.
It's easier to control load swing with a knuckle boom crane as the load is always suspended immediately below the end of the boom, rather than from a cable.
Knuckle boom cranes support a wide variety of attachments such as augers for drilling post holes.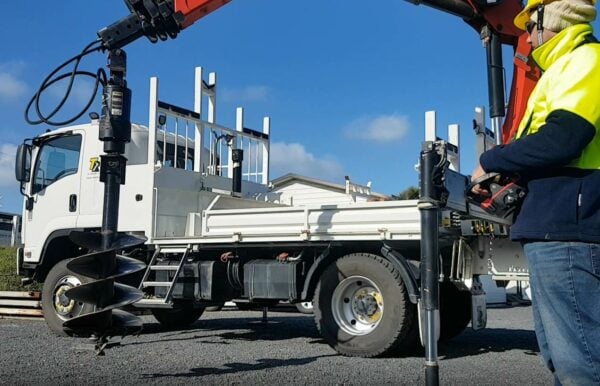 Knuckle boom cranes are generally easier to use when precisely placing cargo on the truck.
An overview of the advantages and disadvantages
A telescopic boom crane has a winch for direct up/down lifting and therefore has better vertical clearance, and suffers less wear and tear.
A knuckle boom crane is more compact, allowing the truck to be used to carry other items. Its manoeuvrability is precise and it is fast to use. It can support attachments such as augers.