Until 2004 speed cameras had to be signposted, but since then police have operated an 'anytime, anywhere' policy on the placement of speed cameras. There is a mixture of static and mobile cameras.
Static speed cameras
Static cameras are on poles. There are a limited number of cameras which are rotated around the different camera housings. More locations are added gradually and could be located on motorway gantries as well as on roadside poles. They won't be signposted, but you are able to find out where they are (e.g. police publish lists, one of which is below, and there are other websites that show the locations).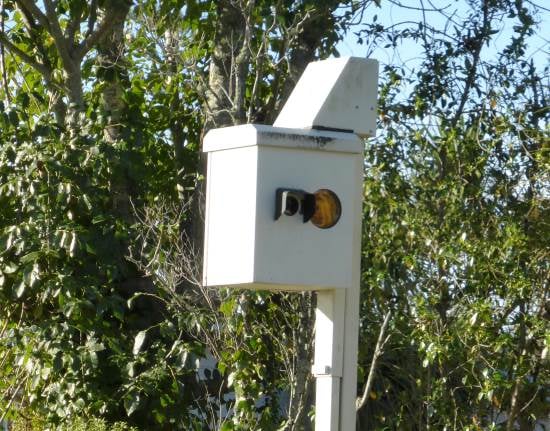 Mobile cameras
Unmarked cameras tend to be in plain vans parked on the side of the road and they will not be obvious. As you can see from the photo below, the road is curving gently to the left and the van is well off the road. This means you don't see it until the last moment.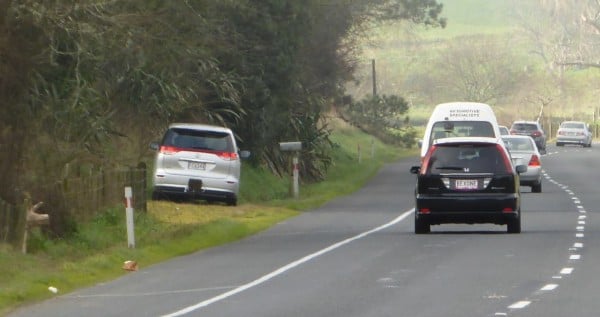 This is a close-up of the van. The camera takes the photos through the rear window.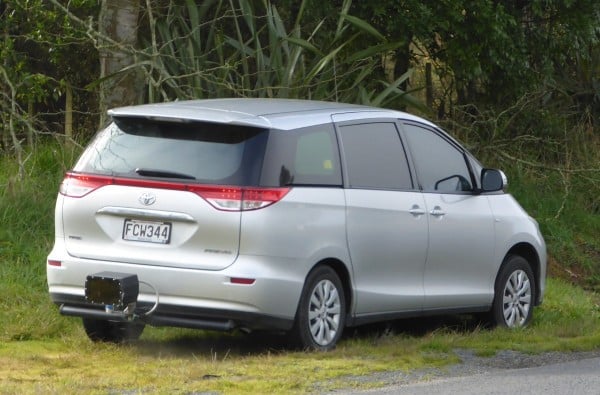 Marked traffic safety vans are also used and look similar to this: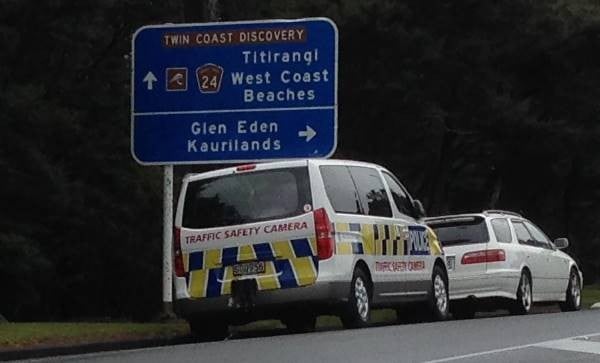 Speed cameras do not generate money directly for police. All revenue goes into the Government's consolidated fund.
Mobile cameras in vans could be anywhere and police change the locations frequently to encourage drivers to slow down over the whole road network, not just at camera sites.
Locations of digital speed cameras
These newer cameras are able to detect the difference between light vehicles, light vehicles towing a trailer and heavy vehicles, so no longer is there a blanket speed limit like there was with older cameras. They can also detect which lane a speeding vehicle is in.
Wellington region speed cameras
State Highway 1, Ngauranga
Wainuiomata Road, Wainuiomata
Whitford Brown Avenue, Aotea
State Highway 1, Thorndon
Wainui Road, Waiwhetu
Hutt Road, Horokiwi
Auckland region speed cameras
Great South Road, Otahuhu
Mill Road, Totara Park
Murphys Road, Totara Park
Candia Road, Henderson Valley
Great North Road, Kelston
SH20, Waterview (both ends of the tunnel)
Cameras to be installed from 2017-2018
Auckland and Northland
Old North Rd, Kumeu, Waitemata
Twin Coast Discovery Highway, Kaiwaka, Northland
Tamaki Drive, Parnell, Auckland City
Hillsborough Rd, Hillsborough, Auckland City
Great North Rd, Grey Lynn, Auckland City
Mahia Rd, Wattle Downs, Counties Manukau
Massey Rd, Mangere, Counties Manukau
Waiuku Rd, Mauku, Counties Manukau
Glenbrook Rd, Kingseat, Counties Manukau
Awhitu Rd, Karioitahi, Counties Manukau
Great North Rd, Kamo, Northland
Coatesville Riverhead Highway, Coatesville, Waitemata
State Highway 1, Wellsford, Waitemata
State Highway 17, Albany Heights, Waitemata
Great North Rd, Henderson, Waitemata
Twin Coast Discovery Highway, Dome Valley, Waitemata
Rata St, New Lynn, Waitemata
East Coast Rd, Redvale, Waitemata
Bay of Plenty
State Highway 2, Pukehina
Waikato
State Highway 2, Maramarua
State Highway 2, Waikino
Main Rd, Raglan
State Highway 29, Te Poi
Otorohanga Rd, Otorohanga
State Highway 2, Waihi
Te Awamutu-Cambridge Rd, Cambridge
Canterbury
State Highway 1, Temuka, Canterbury
Leeston Rd, Springston, Canterbury
Taranaki/Manawatu
State Highway 3, Mokoia, Central
State Highway 56, Tiakitahuna, Central
Otago/Southland
Southern Motorway, Burnside, Dunedin
King Edward St, South Dunedin
Otatara Rd, New River Ferry, Southern
Serpentine Ave, Dunedin Central
Severn St, Oamaru