What is a segregation device?
A segregation device is something that is used to contain and segregate dangerous goods that are incompatible with each other for a variety of reasons. They are used by a driver transporting dangerous goods. The dangerous goods are loaded into them and secured in the back of the truck.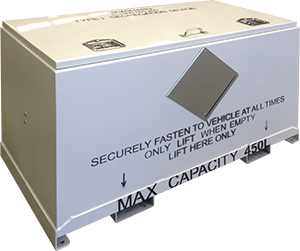 The legal definition for a segregation device and taken from the Land Transport Rule 2005 is:
containers that comply with the specified performance standards and are used to provide an additional level of protection and containment of packages complying with section 3.
Section 3 of the Land Transport Rule 2005 specifies if different products can go with each other in the same vehicle or not. There are three parts that must be adhered to:
the product must not be loaded in the same freight container or on the same vehicle,
the product can be loaded in the same freight container or same vehicle provided that it is separated by at least three metres; or
the product can be loaded in the same freight container or on the same vehicle if it is transported in a segregation device.
Segregation devices come in different types and sizes, depending on what quantity of dangerous goods you need to segregate. The devices must be securely restrained within the vehicle. If you need to understand load security, this course explains everything.
Standards for segregation devices
There are specifications that must be met before a container can be an approved recognised segregation device. Suffice to say, that a cardboard box with the word "segregation device" handwritten on the side would fall far from the required standards. In some cases, it depends on the product being carried.
The devices must:
meet specifications, and be type tested, certified and marked in accordance with NZS5433; or
be approved by the relevant regulatory authority; or
if for Class 6.2 Infectious Substances, meet the requirements detailed in the Land Transport Rule Dangerous Goods 2005.
They may be used to segregate:
incompatible dangerous goods of Classes 3,4,5,6 and 8 from each other or from food items; and
dangerous goods of Class 9 when the nature of the goods requires them to be segregated from Classes 3,4,5,6 or 8 or from food items.
With the exception of those used for diagnostic specimens and biological products, the segregation devices must comply with the following:
they must not be used to segregate any dangerous goods of Packing Group 1; and
packages of dangerous goods that require venting or pressure relief must be packed in appropriately designed devices; and
they must be labelled to indicate the class and division of dangerous goods they contain; and
all packages loaded into a device must comply with packaging and labelling requirements and be secured in the device; and
the devices must be secured in the vehicle or freight container to comply with all load restraint requirements; and
before they are used for a different class or division from their previous use they must be inspected and, if necessary, cleaned to remove any incompatible residue, except as specified in the Rule 6.4 (4) (b)
a device used for food items must not be used to transport any class or division of dangerous goods; and
food items must never be packed in a device that has been used to transport dangerous goods of any class or division or any other product that might contaminate food items; and
incompatible packages in the same freight container or vehicle must be loaded so that all but one class or division or food items are in separate segregation devices; and
any class, division or food item not loaded in a segregation device that is incompatible with those that are, must be raised off the floor of the freight container or vehicle by at least 100mm; and
a vehicle on which segregation devices are used to segregate goods of classes 3,4 or 5 must carry an engineers certificate to show that it complies with construction and load anchorage point requirements; and
documentation must be carried to show that a segregation device has been approved for the class or division of dangerous goods for which it is used unless the device carries approval markings.
You can learn more about segregation and how to do it by completing a dangerous goods D endorsement course.