There are three main vehicle combination types in New Zealand:
Truck and trailer – a rigid truck towing a full trailer using a drawbar
Semitrailer – a tractor unit towing a semitrailer, coupled using a fifth wheel
B-train (sometimes called B-double) – a tractor unit towing two semitrailers, coupled using two fifth wheels.
It's called a B-train because a fifth wheel plus kingpin coupling is also called a B coupling. An A coupling is a bolt and pin coupling used with a truck and trailer combination. You can find out how to connect different types of trailer here.
Unlike in Australia, it is not possible to add more than two trailers to the combination.
How do you identify a B-train?
B-trains are almost always tankers, or curtainsiders with a step deck (i.e. the front part of the front trailer is slightly higher and the deck steps down). This is to maximise the loading height for the remainder of the trailer.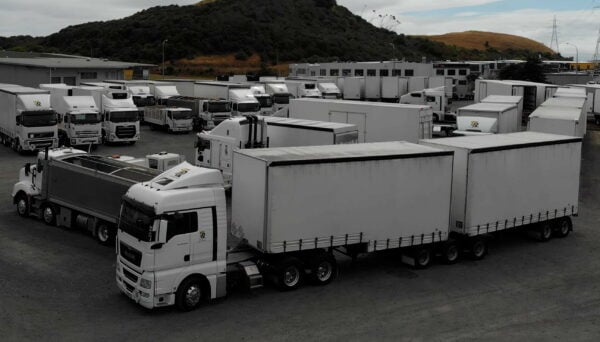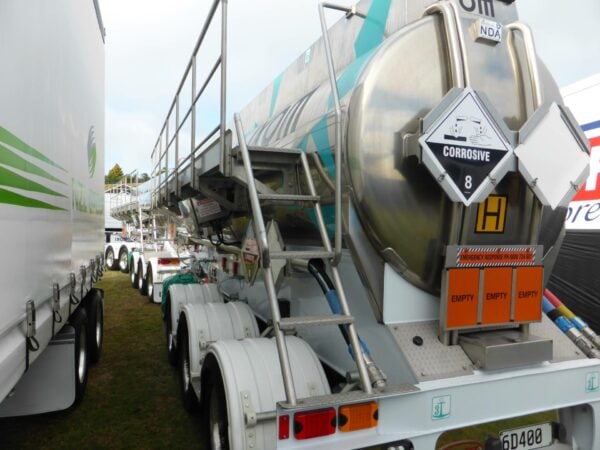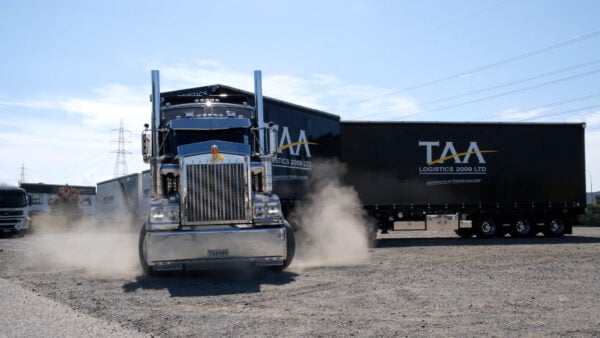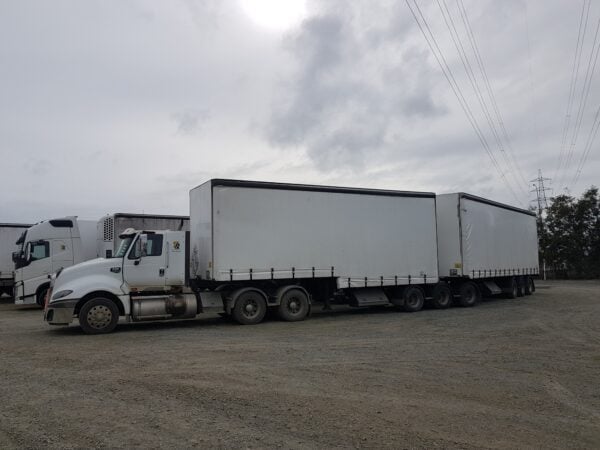 There are some B-train flat decks such as this: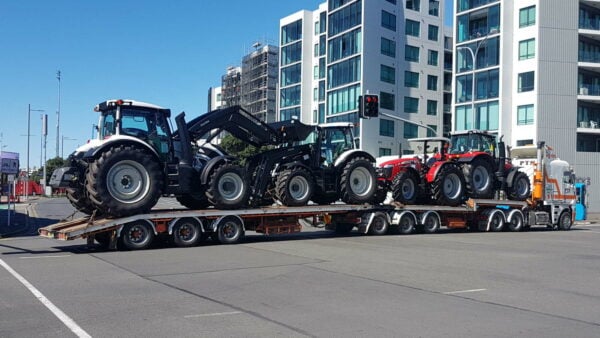 Identifying a B-train is straightforward: the trailers articulate in the middle. There is very little gap between the trailers – this is to maximise the amount of load that can be carried and also to improve aerodynamics. You can contrast this with a truck and trailer combination using a drawbar which has a larger gap.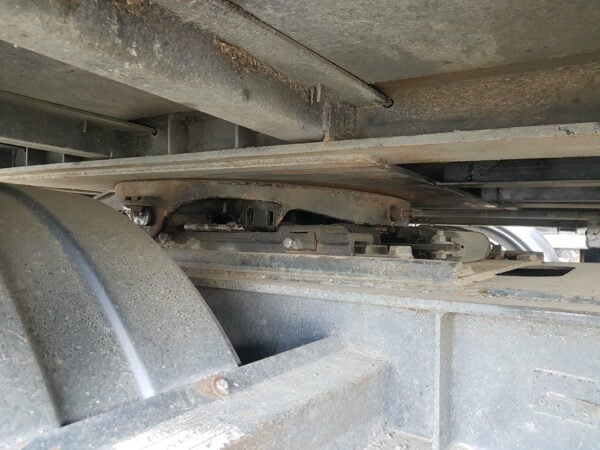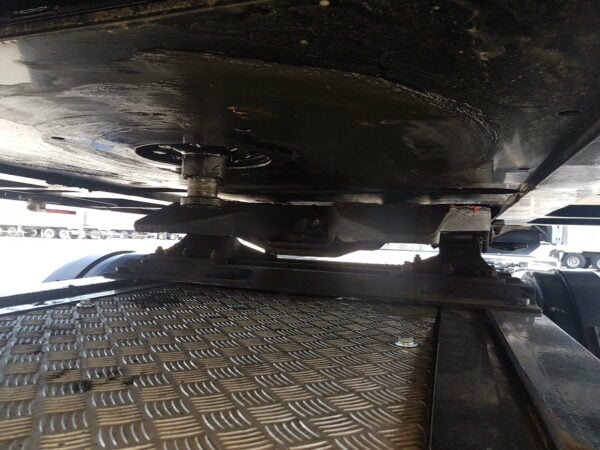 B-train weights and measures
Maximum width is 2.55m
Maximum length is 20m for a standard B-train, or 23m for a 50MAX B-train
Maximum height is 4.3m
Maximum turning circle is 25m, excluding collapsible mirrors.
Minimum spacing between the front and rear trailer is 1m and the maximum is 4m
Maximum number of axles, including the tractor unit, is 10.
Maximum weight is 44,000kg for a standard B-train; higher limits apply on some routes under an HPMV permit when the vehicle has 7-10 axles as they can be designated as 50MAX vehicles (50,000kg).
Why use a B-train?
Under 50MAX rules, B-trains can be 4 metres longer than semitrailer combinations and can carry more weight. Obviously, there's a one-metre space between the trailers, so the additional extra load space is under 3m length, but that still gives around 20-25m3 of additional load space.
B-trains are more stable than truck and trailer combinations that are connected using a bolt and pin coupling such as a Ringfeder. This is because a semitrailer coupling is roll coupled and helps reduce the risk of rollover. If the trailer starts to roll, then it must also roll the cab, unlike with a truck and trailer where the trailer and truck can roll independently of one another.
It's important for drivers to learn about rollover prevention.
What licence class do you need to drive a B-train?
A class 5 licence is required. You may need other permits for the vehicle, such as HPMV. If you carry dangerous goods, you must have a D endorsement.
Key differences between B-trains and semitrailers
A B-train has two trailers coupled with fifth wheels, a semitrailer has one.
The rear trailer's kingpin is much closer to the front of the trailer than the a regular semitrailer so that the gap between the trailers is shorter.
The suzi coils for the rear trailer connect underneath, rather than to the back of the front trailer.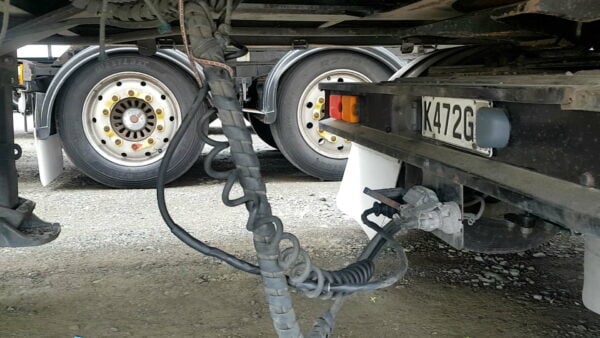 The rear trailer is more susceptible to weaving and meandering due to the 'whip crack' effect where small inputs into the steering are amplified further back.
The rear trailer can be decoupled and has its own legs to rest on.
The front trailer does not have rear doors; rigid semitrailers usually have rear doors or a tail lift.