When flammable hazardous goods are stored, sometimes a Hazchem emergency information panel (EIP) is required that gives codes that let emergency responders such as firefighters know exactly what products are on board and how to deal with them. On a tanker truck, they are required on the sides and rear.
How does an emergency information panel work?
Emergency information panels do this by incorporating a set of codes that explain the method of fire suppression required, plus a UN number, which is a 4-digit number corresponding to a specific substance or a group of substances. For example, UN 1508 is strontium chloride (a specific substance), while UN 2810 is toxic liquids, organic, n.o.s. or toxic, liquids, organic, n.o.s. Inhalation Hazard, Packing Group I, Zone A or B (a more generic group of substances). A list of UN numbers can be found here.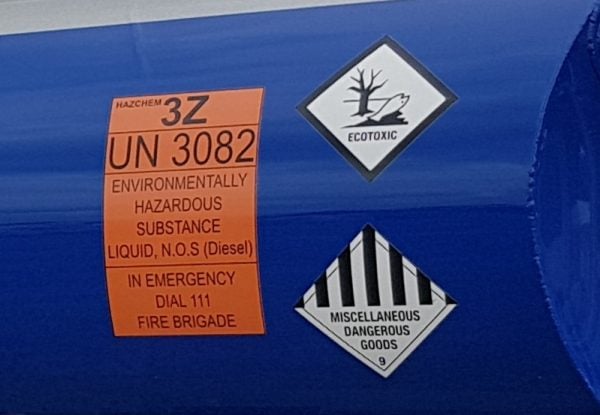 In the image above, you can see the code 3Z. The meaning of the Hazchem emergency action code (EAC) is:
1 – use coarse spray
2 – use fine spray
3 – use foam
4 – use dry agent
P, R, W and X – use a liquid-tight chemical protective suit with breathing apparatus
S, T, Y and Z – use breathing apparatus and a fire kit
P, R, S and T – dilute into a drain with large quantities of water if no other option to contain the pollution is available
W, X, Y and Z – contain and prevent by any means available any spillage from entering drains or watercourses
P, S W and Y can be violently or even explosively reactive
E means it's a public safety hazard; the public should stay indoors with all doors and windows closed
Therefore, 3YE means use foam to suppress any fire. Wear breathing apparatus and a fire kit. E means it's a public safety hazard
Looking at the codes above, we can see that 3Z means use foam to suppress any fire, and contain the substance by any means to prevent spillage into waterways.
You will learn this information as part of a D endorsement course; a D endorsement is required to transport dangerous goods by road.
If you come across a crash where a tanker is carrying chemicals, or if you see a leak from a tank, you'll be able to give emergency services specific details so they can arrive prepared. Be sure to keep out of harm's way, though.