There's no such thing as a 'forklift licence' in New Zealand. People talk about getting a forklift licence and you'll see companies advertising forklift licences, however, they either mean an F endorsement (which goes on a driver licence) or the forklift operator's certificate.
The difference between the two forklift qualifications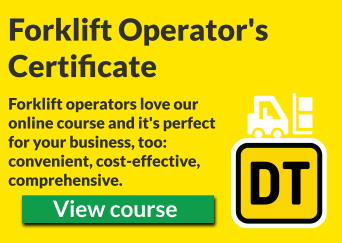 There are only two official forklift qualifications:
F endorsement – minimum age is 17 years 6 months old based on requiring a full class 1 licence*
Operator's certificate (previously called the OSH certificate) – minimum age is 15 years old
You can do the two qualifications together.
*This assumes the person passes either Street Talk or Defensive Drive Course as well as passing the learner, restricted and full tests on the earliest day the first time.
If you pass a unit standard 18496 course with a registered trainer you will get an F endorsement on your driver licence. While you can do the theory online, you must attend a final exam with a registered trainer. The F endorsement allows you to drive a forklift on the road.
If you pass a forklift operator's certificate course it demonstrates that you have had some training and induction in forklift operation. This gives you a certificate, not a licence.
Do you need to use a trainer?
You are not required to attend an external course or use an accredited trainer if you do an operator's certificate; you can do the theory online and do a practical assessment at your company. This can be conducted by a competent person (e.g. a supervisor).
You do need to use an accredited trainer if you do unit standards.
NZQA unit standards are optional. The ones associated with lift trucks are:
10851: Operate a powered industrial lift truck (forklift)
10852: Operate a powered industrial lift truck (forklift) fitted with attachments
18496: Demonstrate knowledge and skills for driving a forklift on a road for Drivers Licence Endorsement "F" (forklifts)
14409: Use a forklift-mounted safety platform in the workplace
Invented qualifications
The Approved Code of Practice covers all types of lift trucks (counterbalance, reach, order pickers, walk-behind, container handlers, etc) – this is stated in the Code itself; all these lift trucks operate using a similar concept and are governed by safety regulations.
There are some differences and idiosyncrasies between makes, models and types of lift truck. There are many invented 'qualifications' that the forklift industry has created to sell you products and services. You may be familiar with companies that give a driver half an hour on a reach truck or an order picker and then print an ID card with those details on. This does not constitute adequate training because training must be specific to your workplace. That's not to say that a brief induction on these machines isn't useful, but there is no legal requirement for you to do that training externally and, under WorkSafe's guidelines, you should be giving practical training for your forklift operators for your specific requirements. That means the forklifts you use, the loads you lift, the areas your forklift drivers will be operating in and the policies your company has around forklift operation.
So, before you pay for this type of additional training, consider whether it meets your requirements and if you are spending money unnecessarily.
Are there 'OSH-approved' or 'WorkSafe-approved' courses?
WorkSafe doesn't approve courses, and 'OSH-approved' is not something that exists. Forklift qualifications must meet the requirements of the Health and Safety at Work Act 2015, which they can do by either following the recommendations in the Approved Code of Practice, or by doing it an equivalent or better way.
Are trainers 'OSH-registered'?
There's no such thing as OSH registration for trainers. This is old terminology – OSH hasn't existed for years. Trainers can be registered with Competenz (this is optional) and they can be accredited by NZTA to deliver F endorsement courses. For the operator's certificate, there is no requirement to be approved, registered or accredited by either. However, Competenz does offer support for and assessment of forklift trainers, so being on Competenz's register does indicate that a trainer has been assessed to a certain level (although it doesn't ensure that they are still at that level or abide by any specific rules as it's still the trainer's prerogative as to how they deliver the training).