Transport companies are required to carry a variety of dangerous goods of smaller quantities to supermarkets and other manufacturers. These may be carried with reduced segregation requirements if they meet the following conditions. They must meet all other requirements of the dangerous goods legislation, though.
Packaging
Inner packaging must be contained in outer packing. Inner packaging cannot exceed the quantity limits shown in Schedule Two. An example of this might be carrying cigarette lighters which is Class 2.1, UN1057
The maximum weight according to Schedule Two the allowable weight per lighter is 10 grams, so any lighter weighing more than 10 grams cannot be transported as a DGLQ or con coms package.
The outer packages must not weigh more than 20kg (for shrink or stretch-wrapped trays) or 30 kg for other types of packaging.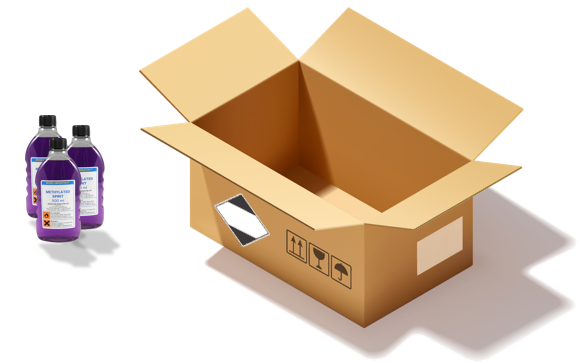 All packaging must be appropriate and compatible with the dangerous goods and must be robust enough to withstand handling and transport. Where necessary, packaging must also meet the requirements of the relevant regulatory authorities.
DGLQ and con com packages must also display one of two possible labels. These are:
A label containing the UN number of all the dangerous goods in the package, in characters at least 6mm high, marked within a diamond with a line width of at least 2mm, or
The black and white diamond-shaped dangerous goods in limited quantities mark.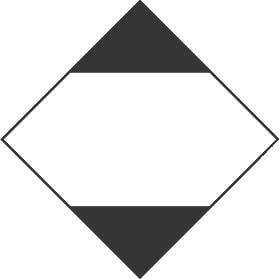 Documentation
DGLQ documentation must be in the form of a declaration that complies with the requirements listed on page 76 of the dangerous goods course study guide, which is available with our dangerous goods course.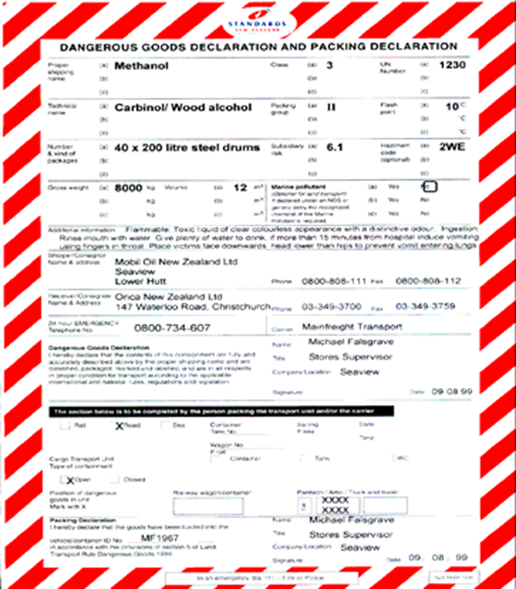 Consumer Commodities
Consumer commodities documentation must, as a minimum consist of a document which displays the name, address and signature, and if available, the contact phone number of the consignor and a statement confirming that the dangerous goods are within the quantity limits of the rule and are packaged, marked and labelled correctly.
Can you use a dangerous goods declaration for consumer commodities?
Dangerous goods declarations are also acceptable for consumer commodities.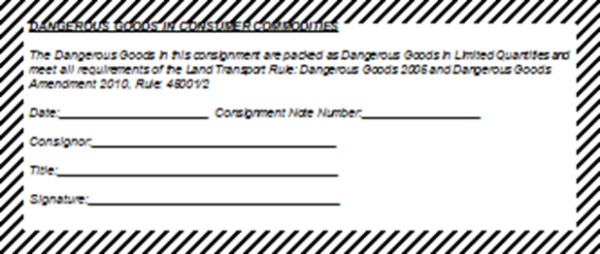 Segregation
Segregation is when incompatible dangerous goods are separated from one another. Inner packages of dangerous goods and food items that would normally require segregation according to Schedule 3 of the rule, must not be contained in the same outer package.
Segregation of DGLQ and consumer commodities from other dangerous goods on a vehicle deck is not required provided all other pre-conditions have been met.
All requirements pertaining to placarding, transport procedures, training, and responsibilities must be met unless the total quantity of the DGLQ or con coms is 50kg or 50 litres or less in which case the packages can be classified as small packages.
Note
Dangerous foods listed in Schedule 2 must not be transported as DGLQ or consumer commodities if:
0 is specified for the maximum quantity per inner package unless specified elsewhere in the documents in 2.3 (1) (a) (ii) to (vi), or
0 is specified for the maximum quantity per inner package for a particular Dangerous Goods.
Refer to the Rule 2.3