The health and safety risks associated with driving can be broken down into six categories:
Vehicle
Health and wellbeing
Compliance
Cognitive ability and attitude
Environmental
Management
Each of the risk categories have questions that should be asked to assess the level of risk, and then can have controls applied to reduce the risk in the workplace.
Multiple layers of controls can be implemented. The following risk categories will have specifics related to individual workplaces, but we have proposed generic considerations below. There are multiple ways of implementing controls, training being one of them.
Vehicle
Fitness for purpose: does the vehicle suit the requirements of the job?
Technology: does it have the latest passive and active safety features such as forward collision warning or autonomous emergency braking, ABS/stability control, blind spot monitoring, fatigue detection, warning sensors/cameras?
Maintenance: does everything work, is it quiet, are fumes controlled, is it legal for the road?
Equipment: is the required equipment with the vehicle, e.g. load security gear?
Induction/training: has the driver had an induction on the machinery and been trained how to use it?
Health and wellbeing
Fatigue: is the driver well-rested – are they aware of fatigue? Have they done a fatigue management course.
Health: is the driver healthy, are they doing whatever is possible to reduce stress (e.g. exercise, good planning) and mitigate any underlying health conditions (e.g. medication), is their diet affecting their performance?
Physiology: does the driver know about factors that increase risk due to basic physiological limitations, e.g. eyesight in low light, heat/cold/dehydration, types of food/drink ingested, three points of contact, safe manual handling?
Compliance
Road rules: has the driver ever taken a road rules test (drivers from overseas may not have), has the driver refreshed knowledge of the road rules recently?
Logbooks and work time: does the driver understand their obligations for filling out documentation and taking breaks?
Load safety: does the driver understand load security requirements?
Cognitive and attitude
System of vehicle control: Can the driver control the vehicle adequately and does the driver understand the fundamentals of the system of vehicle control?
Instructions and obligations: does the driver understand instructions given by superiors and if there are specific SOPs?
Spatial awareness: does the driver have good spatial awareness?
Personal: does the driver acknowledge the risk their attitude creates, is the driver actively thwarting efforts to use best-practices?
Company: does the company's attitude promote driver health and safety?
Environmental
Weather: is the driver prepared for weather and road surface hazards, does the driver know what to do in extreme conditions when driving?
PPE/clothing: does the driver have the correct PPE or clothing, is signage and surface markings clear?
Emergency response: does the driver have an appropriate emergency kit in the vehicle, does the driver have a spill response kit when carrying liquid goods?
Environment: is the environment protected as much as possible from the impacts of driving, or the risk of an accident?
Management
Scheduling: is the workload reasonable, does scheduling set drivers up to fail?
Consistency: in relation to vehicle usage, does management provide consistent rules across the company?
Clarity: are instructions regarding vehicle use, clearly stated and adhered to (e.g. authorization to operate, induction on vehicles, clear signage, etc)
Safety: are drivers provided a safe physical environment (e.g. a place to wait while being loaded by a forklift)
Openness: can drivers talk to management about near misses and incidents without fear?
Our training courses relevant for the risk categories
Training is one of the controls you can use to reduce risk. The course titles below link to the appropriate courses available on this website.
The following matrix explains which courses contain content that addresses some of the risks in the six categories. As risk categories can be very diverse, the courses outlined below may not cover all the elements of risk within each category for your company.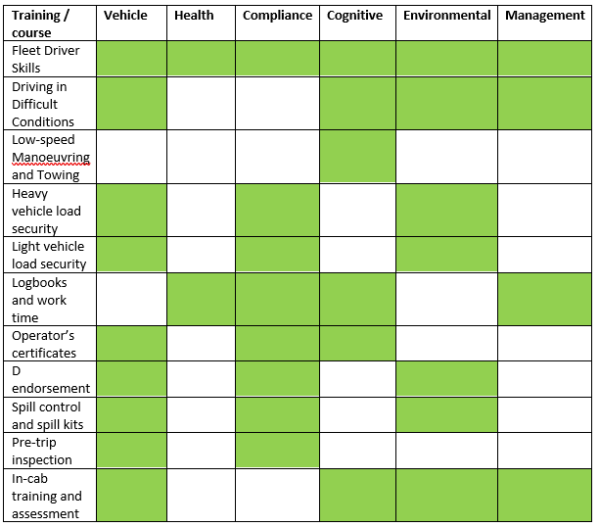 Course descriptions and links
Online courses
Fleet Driver Skills
Defensive driving for light and heavy vehicle drivers of all kinds. Content includes driver health and safety, the Road Code, vehicle technology, driver attitude, fuel economy, anticipation and scanning, and driving on gravel and at night.
Driving in Difficult Conditions
For light and heavy vehicle drivers of all kinds, this online course demonstrates safe driving techniques when the weather is bad, plus covers route planning, vehicle checks, what to carry in your vehicle and what to do in an emergency.
It also covers braking and cornering when traction is reduced and how to reduce risk and wear and tear on the vehicle.
Low-speed Manoeuvring & Towing Course
Helps drivers of light vehicles and rigid trucks avoid injury from low-speed crashes.
Content includes manoeuvring, parking, reversing, blind spots, reversing with a trailer and more.
Heavy Vehicle Load Security
Based on the Truck Loading Code and industry best-practice, this course contains everything drivers need to know whether they are just starting out, or are experienced drivers wanting to improve their skills and understanding of transporting safe loads.
Suitable for drivers of heavy trucks, trucks and trailers, loaders, forklift drivers and supervisors.
Light Vehicle Load Security
For drivers of cars, utes, vans and light box trucks; drivers towing flat deck, cage, box and specialist trailers; supervisors and fleet managers
Based on the Road Code and industry best-practice, this course contains everything drivers need to know whether they are just starting out, or are experienced drivers wanting to improve their skills and understanding of transporting safe loads
Logbooks & Work-time Course for Heavy Vehicle Drivers
This online course covers everything drivers need to know to fill out their logbook correctly, how to manage fatigue and avoid infringements and fines.
Operator's certificates
These online courses are for forklifts, electric pallet jacks or truck loader cranes. They are specific courses to comply with Approved Codes of Practice
Dangerous Goods D Endorsement
For drivers who need to obtain or renew a D Endorsement to transport dangerous goods by road
Spill Control & Spill Kit Training
This course contains important knowledge for warehouse staff, drivers, loaders, managers and other people who work with or store chemicals
Trainees learn how to use safety data sheets and product safety cards to define the spill response, signage and labels used for hazardous goods, how to assess a spill and set up spill zones, spill action plans plus loads more
Pre-trip Inspection
Skills and knowledge to help drivers ensure their vehicles are checked properly and roadworthy
A robust pre-trip vehicle safety check which should be completed by heavy vehicle drivers Class 2-5.
Instructor-led training
In-cab training and assessments
In-cab training and assessment is customised to the needs of the client and the driver, taking into consideration the vehicle used and what it is used for. The trainer can identify skills to work on for the driver and will supply a report afterwards outlining any further training that is required. Trainers can also induct drivers on machinery and vehicles.
It's impossible to completely remove risks when driving as there are too many variables and driving itself is a task that requires a human. However, layering up these controls acts like the Swiss Cheese model, gradually reducing risks further and further.